GEOFF THOMPSON MASTERCLASS
The Geoff Thompson Masterclass continues to grow in popularity. It is attended by interested Individuals from throughout Europe. County Antrim man Dan Redmond completed his six months session in December complete with a teaching qualification from Geoff. It is a requirement to attend a weekend seminar one weekend a month for a total of six months. The seminars are held at the AT7 Centre, Coventry.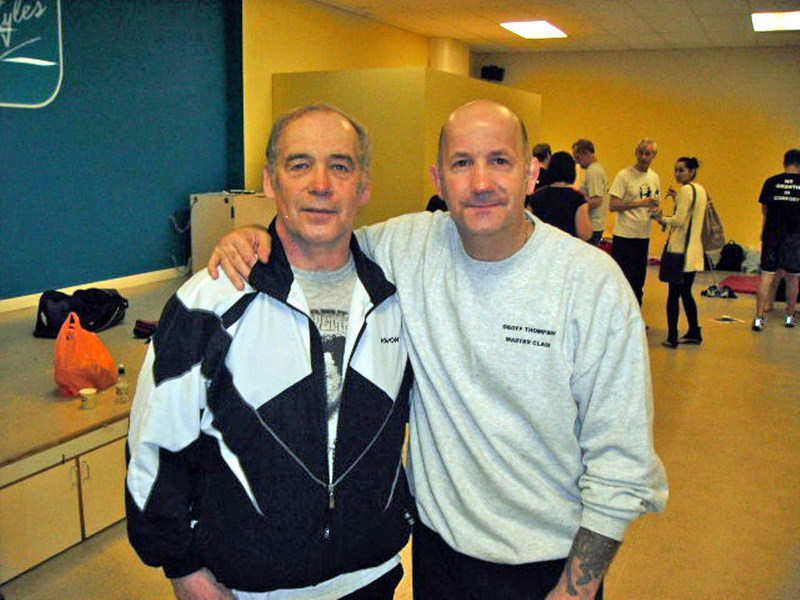 Dan Remond and Geoff Thompson
Thirty person's maximum on each seminar. The topics covered included -
Impact development
Line ups
The fence
Fear control
Pre-emptive strikes
Throws and takedowns
Ground work
Close range power punching
Managing conflict performance under stress
Combat concepts
Dan explained that training with Geoff Thompson was a unique experience. Thompson teaches with a no nonsense attitude and concentrates on tried and tested techniques. Each session started with a motivational talk from Geoff Thompson. He explained that from a factory job he became a best selling author and to date has written over forty books. He has also produced movies and has won a BAFTA award.
Redmond said for him the most enjoyable physical part of the six months seminar was THE FENCE which tied in with the LINE UPS and PRE-EMPTIVE STRIKES. The fence is an exercise in building a protective wall around yourself to avoid attack. Geoff explained that if a man owns a factory he would usually build a strong fence around the factory to deter and keep out intruders. In personal defence a person protects themselves from an aggressor by keeping the arms outstretched in front to secure a safe distance and at the same time trying to talk down the other person's aggressive moves. If the aggressor moves forward the defender moves back to maintain the safe distance. Obviously this defence cannot continue indefinitely, so the defender is looking for an opening and at the same time creating a line up situation for a pre-emptive strike. Once the defender is certain that the aggressor intends him serious injury and that his efforts to defuse the situation have failed, he is then obligated to make a pre-emptive strike for self protection. Geoff explained that it is best to ask a question to engage the attacker's thoughts and to then deliver an effective pre-emptive strike. Obviously to strike someone is a last resort action, but where serious injury is possible from an attacker then the defender has no other choice but to end the confrontation. Geoff explained that everyone should act within the law. He said that a pre-emptive strike could result in consequences that would most likely follow. It could result in an arrest by the police and also perhaps the attacker's friends might pay the defender a visit. In a danger situation self defence is a priority and be then prepared for the consequences. Dan said that a large part of each session was pad work where each person developed their own personal choice of technique for a pre-emptive strike
A teaching qualification from Geoff Thompson is rare. Redmond is now the proud owner of a Geoff Thompson Level 1 Instructor Qualification.
Dan Redmond clubs are based in the areas listed –
Rasharkin
Ballymoney
Ballymena
Coleraine
Portglenone
Contact details
Tel 07976987696
Email [email protected]
WWW// chujo.org.uk